How to get around Santorini – Best ways to move around effortlessly
Santorini truly does have what it takes to be called a top destination not only in Greece but worldwide.
When planning a trip to this enchanting island though, one of the essential aspects to consider is how to get around Santorini and explore all the beauty and charm it has to offer.
Questions like "Are there taxis in Santorini", "Do I need to rent a car", "What does the public transportation look like" or "What is the best way to get around Santorini" come up as soon as you start making plans and it's important to get the answers you need before you set foot on the island, as pre-booking might save you tons of waiting, hidden fees, and other unpleasant surprises.
So, without further ado, let's dive deeper into how to get around Santorini, comparing all available transportation options and discussing what's best for you personally.
Available modes of transportation in Santorini at a glance
• Rent a car, ATV or motorbike
• Travel by bus
• Take a taxi
• Book a private transfer
Santorini offers a variety of transportation options to suit different preferences and budgets. From traditional choices to modern conveniences, you'll find something that fits your travel style. Let's talk specifics about each one.
Rental cars, scooters, and ATVs: Exploring on your terms
Renting a car can be a great option for those seeking flexibility and independence during their Santorini adventure and you truly can't argue with the advantages of renting a vehicle during your holidays, as it allows you to:
Create your own itinerary
Venture off the beaten path
Discover hidden gems
When it comes to Santorini in particular, there is a well-maintained road network that allows you to easily explore various attractions.
However, driving around Santorini can be challenging due to narrow roads, steep cliffs, and local driving habits, not to mention limited parking availability during the peak summer months.
If you decide to rent a car, opt for a smaller vehicle as it's more manageable on the island's roads. ATVs or even motorbikes can be a good idea if you're traveling solo or with 1 more person, but if you're traveling with family or a large group of friends, it's best to stick to a car.
Last but not least, an aspect you definitely need to consider is your safety: don't drink and drive! If you plan on going out, partying, or drinking – or even if you're feeling tired from swimming and being under the scorching summer sun all day, we strongly recommend you not renting a car since your driving abilities might be impacted.
Instead, book a Santorini private transfer and enjoy the island from the backseat of a luxury car!
Pro tip: Remember that in Greece, you drive on the right-hand side of the road.
Do you need a car in Santorini?
While it's a nice-to-have addition, it's not necessary. You can cut down on your expenses by taking a taxi, booking your port/airport transfers, or relying on the island's public transportation if you're on a tight budget, especially if you're visiting in July/August when prices tend to get higher.
Is Santorini walkable?
Each Santorini village, like Fira, Oia, Imerovigli, Perissa, etc. is walkable on its own. To move from one village to the other though, or from where you stay to where you go for dinner or to the beach, you definitely need some sort of transportation.
Pro tip: You can try hiking along the famous caldera trail from Fira to Oia that offers a unique perspective of the island's beauty, but walking is definitely not suitable for longer distances or travelers with mobility constraints.
Further reading: Where to stay in Santorini – Every part of the island, explained!
Taxis: Convenience but limited availability
While taxis provide convenience and comfort, they tend to be relatively more expensive compared to other options and their availability might also vary, with waiting times longer than desired, especially during high-demand periods.
Moreover, taxis in Santorini don't use a taximeter: traveling times and distances are so standard, that the fare is known is advance – there's no route that hasn't been travelled yet!
Having said that, it's advisable to confirm the fare with the driver before starting your journey and to check if there are any additional charges, especially if you're traveling with luggage.
Are there taxis in Santorini?
Taxis are a readily available mode of transportation in Santorini and can be found at major tourist spots, the airport, and the port. You can hail one from the street, call one, or wait at a taxi rank.
However, please note that the number of taxis in Santorini is rather low (less than 40 for an island that gets thousands of tourists!), so getting a cab can be a little difficult at times. Consider booking a Santorini taxi in advance to avoid waiting and unpleasant surprises!
How much does a Santorini taxi cost?
A typical Santorini taxi price is around €40 ($43). Expect extra charge for after-hour or airport/port transfers at times.
How do I book a taxi in Santorini?
If you're all about planning and leaving nothing to luck, make Monica Geller happy and prebook all your Santorini taxi transfers with The Joy Van! Apart from fixed rates, you can also add all sorts of extras to make your holidays – or your significant other – feel even more special!
Choose your desired vehicle, add car seats for children at no extra cost, ask the driver to provide a bottle of wine or snack box at a fixed price, and just rest assured that everything will go according to plan, even if your plane or ferry are delayed!
Public transportation: Embracing the budget-friendly life
Wondering how to get around Santorini if you're on a budget? Buses to the rescue!
Santorini offers an extensive public bus network (called KTEL) that connects major villages and tourist destinations.
Buses run regularly between popular destinations, including Fira, Oia, Kamari, and Perissa, even 30 times a day during the peak summer season, not to mention they are a budget-friendly option providing an opportunity to interact with locals and fellow travelers.
Fira is the main bus hub so, if you stay here, it'll be easier to move around using the buses.
While affordable though, this option may not offer the same level of comfort and flexibility you seek – buses can become crowded and schedules might not align perfectly with your plans, so keep that in mind before relying exclusively on public Santorini transportation.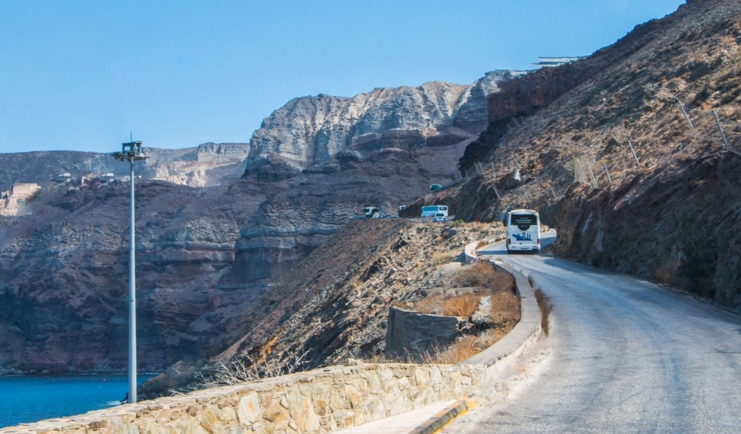 How much do buses in Santorini cost?
Santorini buses are very affordable, starting at €1.6 ($1.7) for a trip from Fira to Oia that's around 12 km away.
The bus fare from Fira to Perissa that's around 20km away is €2.2 ($2.4).
Discounted rates are offered to people with many children or any kind of disability, while night routes, from 00:30 to 05:00, cost around 25% extra.
Pro tip: Bus tickets are purchased by cash only. There are no advanced sales, you pay upon boarding. There are no daily or weekly bus passes, nor group discounts.
How often does the bus run in Santorini?
During the high season (May to September), Santorini buses usually depart every 30 or 60 minutes.
Bear in mind, though, that during the rest of the year, buses might be scheduled less frequently.
Learn more: What's the best time to visit Santorini? Expert advice to plan the perfect trip
Transfer options from Santorini airport (JTR)
If you want to catch a bus from Santorini airport, it will only get you to Fira where the main bus station is located. Buses depart around every hour, total journey takes no more than 15 minutes if there's no traffic, and the ticket fare is €1.8 per person.
As you might have guessed, you'll need to hop on a different bus to reach your final destination, which will add to your total travelling time.
Opt for a private Santorini airport transfer instead, to avoid all the hassle and start your holidays on a positive note!
Transfer options from Santorini port (Athinios)
When travelling from Santorini Athinios port, you have 3 transfer options: local taxi, private transfer, and bus.
Taking a taxi or private transfer is the fastest and most reliable way to reach your destination from the ferry port, normally in no more than 30 minutes and at a total cost of around €40.
Buses, on the other hand, are significantly cheaper yet not as comfortable or reliable.
Pro tip: According to Greek law, a taxi (sedan) can carry up to of four people at a time, including children. If you're travelling with a larger group, young children that require car seats, or a lot of luggage, consider booking a private Santorini port transfer to conveniently reach your hotel or Airbnb.
How to get around in Santorini, Greece, with ease: private transfers is all you need
Still not sure what is the best way to get around Santorini? Private transfers offer several advantages over public transportation and rentals and are definitely worth your while.
Here are some of the key benefits of booking your Santorini transfers with The Joy Van to help you reach your decision:
Comfort and convenience: Private transfers provide a higher level of convenience compared to public buses or taxis. You'll have a dedicated vehicle with comfortable seating, air conditioning, and space for your luggage, ensuring a relaxed and enjoyable journey.
Personalized service: Private transfers offer a personalized experience tailored to your needs. The driver can accommodate your schedule, stops, and preferences, making the journey more enjoyable and efficient.
No waiting time: With a dedicated driver, you won't have to wait for buses or taxis to arrive. He will be ready to pick you up at the designated time, ensuring you reach your destination promptly.
Local expertise: Private transfer drivers often have excellent local knowledge. They can provide insights, recommendations, and information about Santorini's attractions, culture, and hidden gems during your journey.
Ease of mind: There's nothing quite like knowing you've got everything under control, especially when you're travelling to a foreign country. Fixed rates, booked tickets, and no surprises will allow you to enjoy your holidays even more!
Privacy and exclusivity: A private transfer ensures privacy during your journey. You won't have to share the vehicle with strangers, allowing you to relax and enjoy the ride with your companions.
Efficiency for groups: If you're traveling in a group, a private transfer can be cost-effective compared to individual taxi fares. It also allows the entire group to travel together, making coordination easier.
Safety and professionalism: Reputable Santorini private transfer services prioritize safety and professionalism. Their English-speaking drivers are trained, licensed, and experienced, ensuring a secure and comfortable journey for you and your group.
Flexible payment options: Private transfer bookings often come with flexible payment options, including online payments or payments upon arrival. This can be convenient, especially if you prefer not to carry large amounts of cash.
We could go on and on about the benefits of private transfers, but you get the gist!
Based on the size on Santorini, the overall prices, and the advantages/disadvantages of each means of transportation, it's not difficult to see why Santorini transfers are the best option.
How to get around Santorini depending on your needs
With a plethora of transportation choices, you might be wondering what the best way to get around Santorini is. Let's explore some scenarios to help you decide:
1. Exploring the main villages
If your primary goal is to explore the iconic villages of Santorini, such as Fira, Oia, and Imerovigli, then a combination of walking and using local buses or taxis can be the most convenient and cost-effective option.
These villages are relatively close to each other and can be explored on foot, allowing you to savor the narrow alleys, stunning viewpoints, and charming architecture.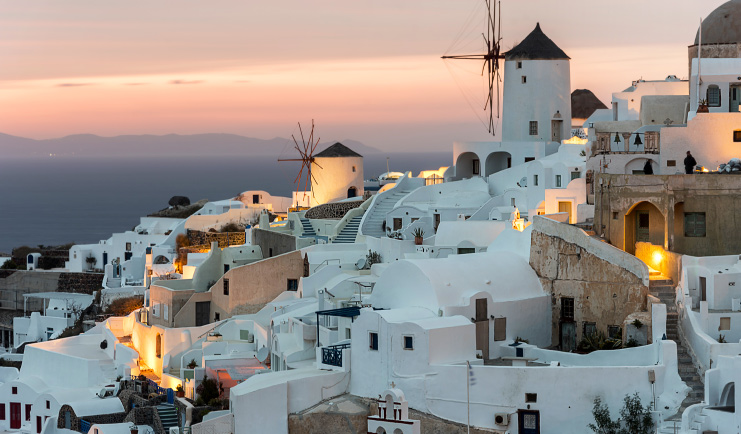 2. Heading for the beaches
Santorini boasts some remarkable beaches, each with its own unique character. To enjoy the beaches and the coastline, renting a car can be a fantastic choice, mainly because they are all located on the other side of the island, relatively away from Oia and Fira.
Perissa, Kamari, and Red Beach are popular beach destinations that can be easily reached by car.
3. Enjoying Santorini with peace of mind
For those who want to explore the lesser-known parts of Santorini, booking private transfers is the best option. Places like the ancient ruins of Akrotiri, hidden viewpoints, and traditional villages are best accessed with a car, and a local professional driver is by far your best bet.
If you're travelling with kids, a large group of friends, or if you simply want to sit back and relax, this is the way to go!
Pro tip: Did you know that The Joy Van offers Santorini tours in addition to transfers? This is your chance to make the most of your trip and enjoy premium services at a reasonable price!
Tips for effortless transportation in Santorini
To ensure a smooth and hassle-free transportation experience in Santorini, here are some valuable tips to keep in mind:
Plan ahead: Research the places you want to visit and create an itinerary that aligns with the transportation options available.
Consider the season: During peak tourist seasons, such as summer, the demand for taxis and rental vehicles can be high. It's advisable to book in advance.
Stay hydrated: Especially if you're renting an ATV or scooter, keep in mind that Santorini's climate can get hot. Stay hydrated and protect yourself from the sun.
Driving licenses: If you plan to rent a vehicle, make sure you have a valid driving license that's accepted in Greece. Different types of vehicles might require specific licenses.
Local driving rules: Familiarize yourself with local driving rules and regulations. Drive cautiously, especially on unfamiliar roads.
Sunset viewing: If you're planning to witness the iconic Santorini sunset, consider using public transportation or private transfers to avoid parking issues in crowded areas.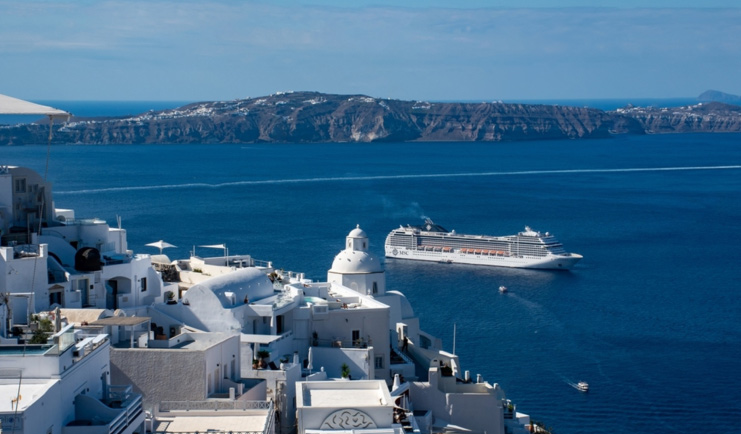 So, what's the best way to get around Santorini?
Exploring Santorini and getting around the island is an integral part of your travel experience.
The best way to get around Santorini depends on your preferences, budget, and the type of adventure you seek. Whether you opt for the convenience of taxis, the freedom of rental vehicles, or the budget-friendly buses, Santorini offers a range of transportation options to cater to your needs.
By planning ahead, considering your itinerary, and staying mindful of local regulations, you can navigate Santorini effortlessly and make the most of your memorable journey on this captivating Greek island!
Keep your mind at ease and book your private transfer