Santorini's Best Things To Do
You know Santorini's famous beaches, its stunning sunset, and the romantic vibes it gives off.
But Santorini is so much more!
If you want to explore it, live the experience beyond the touristy places, and break the limits, the Joyvan can make it happen. We've gathered a list with the best things to do in Santorini to help you out.
After all, this is an island for everyone: families, friends, couples. Check out all the tailor-made activities and tours you can try, including Santorini things to do and see at your own pace or with a group.
Customize your Full-Day Tour and add the activities you would like to try. Is it something you'll do for the first time or your all-time-favorite hobby in a brand-new location?
Maybe a wine tasting tour to top it off? Santorini has so many things to do that you'll simply be amazed.
The Joyvan can make this a day to remember!
Tour Locations
Aviations Services
01
HELICOPTER TOUR
Do you have what it takes? Reach your limits and try the Santorini helicopter tours. Full panoramic view and aviation services from island to island.
Luxury Sailing Yachts
02
CATAMARAN CRUISE
Blue skies or sunset colors? Whatever you desire, a Santorini catamaran tour – paired with laughs, swimming, and Santorini's wine – is the way to go.
Gastronomic Eruption
03
COOKING CLASS
Food is an experience on its own, but when you're the one making it, everything tastes better. Time to enjoy unique flavors, aromas, and local products.
Photoshooting
04
FLYING DRESS
A Flying Dress photoshoot is no ordinary experience; it's an epic one that combines glitz, glamour, and a Santorini background. The perfect Instagram feed!
Physical Activity
05
HIKING TOUR
Visit the secret spots of Santorini away from the hustle and bustle, walking through ancient paths and picturesque cobblestone alleys. This tour is a must.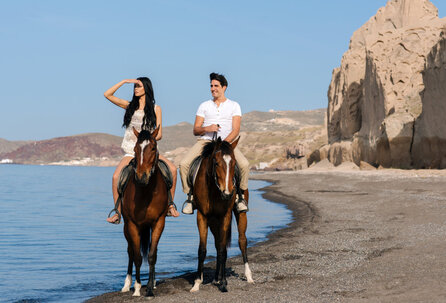 Equestrian Activities
06
HORSE RIDING
Experience equestrian magic and follow the trails to an unforgettable experience of breathtaking landscape. One of our favorite activities ever.
Local
07
PICNIC
Day or Sunset picnic at Akrotiri? Enjoy a breath of fresh air, stunning views, and delicious local products during your super romantic getaway.
Outdoor Recreation
08
WATER SPORTS
A unique combination of Santorini water sports at your disposal: Jet Skiing, Flyboard, Stand up Paddle, Jet Boating, Sea Kayaking, Windsurfing and more.
Underwater Recreation
09
SCUBA DIVING
Explore this unique volcanic island from a completely different perspective: underwater! If you're the adventurous type, this activity is for you.
9D experience
010
LOST ATLANTIS MUSEUM
Many people consider Santorini to be the mythological island of Atlantis. The Lost Atlantis experience museum will leave you speechless.
Interactive Experience
011
GREEK WEDDING SHOW
Meet the Papadopoulos family and celebrate with local appetizers and unlimited wine outdoors. The absolute Greek experience is waiting for you!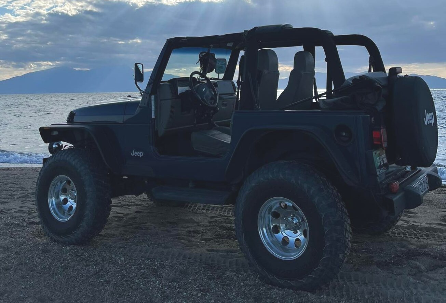 Uncharted Escapes
012
4x4 OFFROAD JEEP SAFARI
Idyllic scenery meets adventure, and the experience becomes unforgettable. Your adrenaline will reach new heights with this safari!
Hotel - Airbnb - Airport - Port pickup & drop off
Car seats for kids & infants
Mineral Water - Local snacks - Refreshments
Admissions and tasting fees at the wineries (for wine tours)
Phone charger for any type of device
Sea Towels (available for whoever chooses to go swimming)
Cable car tickets for cruise passengers (€6 per person)
Entrance fees to attractions (if any), but can be purchased on the spot
FEW WORDS ABOUT US
Why the Joyvan?
Customer care available 24/7
Fee cancellation up to 24 hours in advance
Keep your mind at ease and book your private transfer